Details of FPS ST

GPs can become a registered provider of Focussed Psychological Strategies (FPS) by completing FPS Skills Training (FPS ST) (Level 2), after completing MHST (Level 1).

After completing FPS ST, GPs will have the skills needed to treat common mental illnesses and, after registering with Medicare Australia as a registered provider of FPS, can use relevant MBS item numbers. See Appendix 1 for details of the MBS items GPs can use if they are a registered provider of FPS.
Definition of FPS
FPS refers to specific mental healthcare treatments based on evidence-based psychological therapies.
Under the Better Access initiative, GPs who are registered FPS providers can use a range of acceptable FPS that fall into the following categories:

• cognitive behaviour therapy (CBT)
• interpersonal therapy (IPT).
Narrative therapy for Aboriginal and Torres Strait Islander peoples
There is some flexibility to also use narrative therapy with Aboriginal and Torres Strait Islander peoples.
FPS ST activities that focus on the provision of mental healthcare to Aboriginal and Torres Strait Islander people can include narrative therapy.
National Aboriginal and Torres Strait Islander Health Plan 2013–2023
The centrality of culture and the concept of social and emotional wellbeing as the key platform for prevention and clinical care underpin the key priorities for Aboriginal and Torres Strait Islander health as identified in the National Aboriginal and Torres Strait Islander Health Plan 2013–2023.
Definitions of CBT and IPT
CBT is an evidence-based focused approach that is based on the concept that thoughts influence feelings and behaviours, and that subsequent behaviours and emotions can influence thoughts. The therapist helps the patient identify unhelpful irrational thoughts, emotions and behaviours.

CBT has two aspects: behaviour therapy and cognitive therapy.

• Behaviour therapy is based on the theory that behaviour is learned and can therefore be changed.
• Cognitive therapy is based on the theory that distressing emotions and maladaptive behaviours are the result of faulty or irrational patterns of thinking.

Therapeutic interventions aim to replace these dysfunctional thoughts with more rational ones, which leads to an alleviation of problematic thoughts, emotions and behaviour.

IPT is a brief, structured approach that addresses interpersonal issues. According to the theory behind this therapy, the causes of depression and psychological distress can often be traced to aspects of the patient's social functioning (relationships and social roles).

The underlying assumption of IPT is that mental health problems and interpersonal problems are related, so its goal is to help the person understand how these factors in their current life lead them to become distressed and put them at risk of mental health problems.

Specific interpersonal problems, as presented in IPT theory, include interpersonal disputes, role transitions, grief and interpersonal deficits. IPT explores the patient's perceptions and expectations of relationships, and aims to improve communication and interpersonal skills.
What are the benefits of being a registered FPS provider?
GPs who are registered providers of FPS deliver many benefits for patients and communities:

• Members of the community can receive cost-effective psychological interventions, which is particularly important if there is a shortage of psychologists and psychiatrists, or access to them is difficult (eg in rural and remote settings).
• FPS can be an effective form of treatment for people with depression and anxiety.
• When delivered by a GP who is a registered FPS provider, FPS can address the immediate needs of patients in an acute medical situation.
• When delivered by a registered GP, particularly in rural and remote locations, FPS can help communities overcome disasters and widespread adversities such as droughts.
• GPs skilled in FPS are better equipped to manage stressful situations and support people having difficulties with their mental health, such as those experiencing trauma following an event, or an exacerbation of a pre-existing mental health illness.
FPS training activities
Activities based on CBT

Activities based on IPT

Activities predominantly based on CBT must provide skills in the following strategies, except those shown as optional

Activities predominantly based on IPT must provide skills in all of the following strategies

Psychoeducation
Motivational interviewing
Theory and principles underlying CBT
Behavioural interventions:

behaviour modifications
activity scheduling (optional) – exposure techniques (optional)

Cognitive interventions:

cognitive analysis, thought challenging and cognitive restructuring
self-instructional training, attention regulation and control (optional)

Relaxation strategies
Skills training (eg problem-solving, communication training, parent management training and stress management)

Psychoeducation
Motivational interviewing
Theory and principles underlying IPT, mental illnesses linked to four types of relationship difficulties (loss, role dispute, role transitions and interpersonal deficits)
IPT training:

explore patient's perceptions, expectations of others and relationships
identify problems with relationships
use affect to bring about change
problem-solve to achieve a resolution of relationship issues
communication analysis and training
role play changed behaviour
use therapeutic relationship
Education requirements
To achieve FPS ST accreditation, GPs must have already completed MHST (Level 1), and then must complete an accredited FPS ST activity comprised of:

• a minimum of 12 hours of face-to-face or live/interactive contact time (these can be delivered over consecutive weekdays or a weekend)
• an additional interactive structured learning activity of a minimum of eight hours
• a predisposing activity
• a reinforcing activity.
Learning outcomes
After completing the FPS ST, GPs will be able to:

1. select and use appropriate evidence-based FPS that are relevant to patient issues and needs, as outlined in the GPMHTP
2. incorporate the perspectives and needs of the patient, their carers and others in the patient's network as outlined in the GPMHTP, into the FPS provided
3. use practice's systems to identify local services and resources that safeguard patient safety and help to provide holistic mental healthcare to patients
4. use appropriate MBS item numbers relating to the provision of mental healthcare
5. know and understand the value of regular professional supervision with a more experienced mental health professional and of completing other professional development in order to maintain and extend skills in the provision of FPS.
Registering with Medicare Australia as an FPS provider
Stage 1: Complete relevant activities and notify GPMHSC
1. Complete an accredited MHST course.
2. Complete an accredited FPS ST course.
3. Fill out the application form available on the GPMHSC website.
4. Email the completed application form and a copy of the certificate of completion for the FPS ST activity to the GPMHSC.

Stage 2: GPMHSC and Medicare Australia process application
1. The GPMHSC notify Medicare Australia of completed FPS ST and request to be registered as a GP FPS provider.
2. Medicare Australia processes application and registers GP with FPS accreditation.
3. Medicare Australia mails the GP a letter (approximately 6–8 weeks after it receives notification from the GPMHSC) confirming status as an FPS provider able to access MBS item numbers 2721, 2723, 2725, 2727 and telehealth items 2729 and 2731 (or the equivalent item numbers for non-vocationally registered (non-VR) GPs). GPs cannot claim against these numbers until receipt of this letter.
Figure 2 illustrates how to become a registered FPS provider and maintain your registration.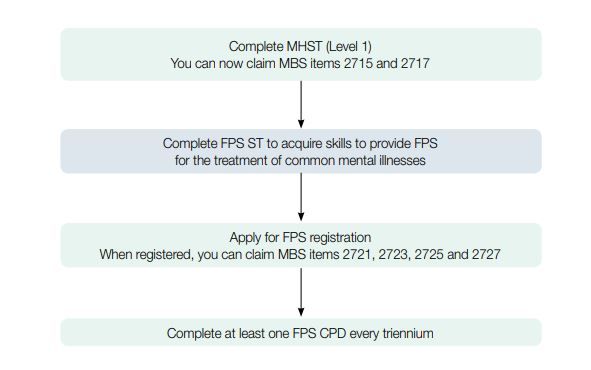 ---
Downloads
Mental-health-training-standards-2020-22_A-guide-for-GPs-19.pdf