The General Practice Mental Health Training Framework
The framework provides an overview of the different levels of training and education recommended by the GPMHSC before GPs can provide different levels of mental health care in general practice (Table 2).. The pathway for GP mental health training and education is shown in Figure 1.
The framework assumes that, having completed undergraduate and pre-vocational training, GPs have achieved entry-level proficiency in the following areas:
general clinical skills, including communication, cultural competency and recording of patients' medical history
knowledge of the general aetiology, epidemiology and prevalence of mental illness in the community
knowledge of the principles of psychiatric assessment and diagnosis
knowledge of common evidence-based pharmacological and non-pharmacological treatments.
Table 2. General Practice Mental Health Training Framework
Level 1: Mental Health Skills Training (MHST)

Action
Complete one of the following:
Outcomes
You should be able to:
Recognition
You can access MBS item numbers:
MHST Primary Pathway

Targeted at general practice registrars and other doctors entering Australian general practice

undertake mental health assessments for common mental illnesses in the context of general practice

and

develop and review GP MHTPs

2715
2717
MHST Modular Pathway

Complete a core module and a clinical enhancement module
Targeted at GPs who are more experienced or have particular interests

undertake mental health assessments for common and more complex mental illnesses / specific population groups within the context of general practice

and

develop and review GP MHTPs

Level 2: Focussed Psychological Strategies Skills Training (FPS ST)

Action
Outcomes
You should be able to:
Recognition
You can access MBS item numbers:

Complete FPS ST
(Prerequisite: Level 1 MHST)

provide cognitive behavioural therapy or interpersonal therapy to patients eligible for treatment under the Better Access initiative in the context of general practice

2721
2723
2725
2727
plus registration with Medicare as a GP provider of FPS
FPS ST, Focussed Psychological Strategies; FPS ST, Focussed Psychological Strategies Skills Training; GP MHTP, General Practice Mental Health Treatment Plan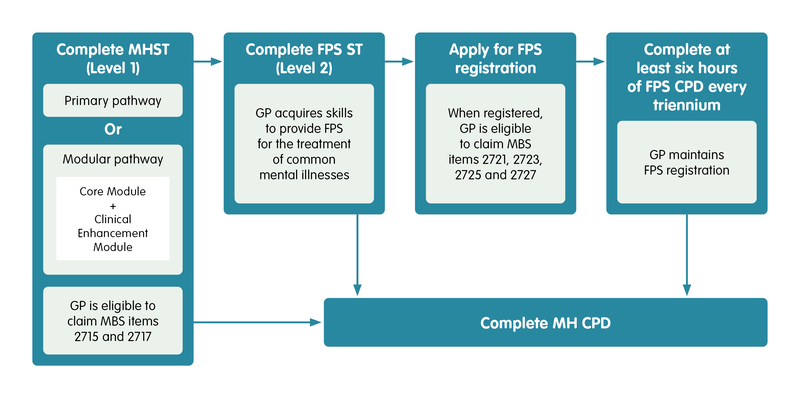 Development; MHST, Mental Health Skills Training

Figure 1. GPMHSC-accredited pathway for GP mental health training and education