Step 1
Login to your RACGP account and select 'myCPD' from the menu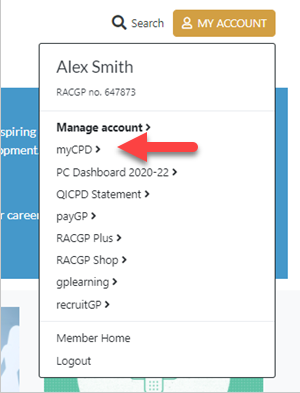 Step 2
Click the search button from the top right hand corner

Step 3
Using the specific requirement drop down menu, select the applicable mental health courses/topics you are looking for: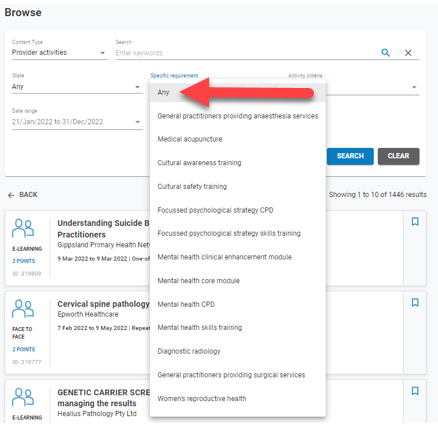 Step 4
The mental health topics are the following.
For MHST primary pathway select 'Mental Health Skills Training'
For MHST modular pathways (i.e. completing the core module first, and then the clinical enhancement module at a later day) select Core Module to begin with. You will select Clinical Enhancement Module once you have completed the Core Module
If you are wishing to complete your FPS Skills Training after having completed your MHST, select 'Focussed Psychological Strategies Skills Training'
If you have completed FPS ST, and need to do FPS CPD to maintain your registration, select ''Focussed Psychological Strategies CPD'
If you are wanting to complete MH CPD in order to improve your skills, select MH CPD.



Step 5
Once you have selected your topic and hit search, a list of the courses available will appear. You can click a course to find out its information, dates, venue, and enrolment details: